Our Martyred Lady (Warhammer 40,000) (CD-Audio)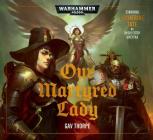 $60.00
Email or call for price.
Description
---
Celestine the Living Saint and Inquisitor Greyfax must join forces to avert a schism within the Imperial Ecclesiarchy that could cast mankind into an era of terrible darkness in this epic, four-part audio drama.

During the turbulent Reign of Blood, a great schism in the Imperial Ecclesiarchy threatened all of Terra and promised a darkness to rival the terrors of Old Night. Fell times have come again to the Imperium and a War of Faith appears inevitable. Standing in the way of catastrophe is Celestine, the Living Saint and one of the greatest heroes of the age. Only she can reunite the warring factions of the Ecclesiarchy and prevent a second Reign of Blood. Together with the Inquisitor Greyfax, Celestine and her allies must hunt across the shrineworlds of the Imperium and beyond to root out the evil behind the schism and burn it out with righteous, cleansing flame.
About the Author
---
Gav Thorpe is the author of the Horus Heresy novels Deliverance Lost, Angels of Caliban and Corax, as well as the novella The Lion, which formed part of the New York Times bestselling collection The Primarchs, and several audio dramas including the bestselling Raven's Flight. He has written many novels for Warhammer 40,000, including Ashes of Prospero, Imperator: Wrath of the Omnissiah, Rise of the Ynnari: Ghost Warrior, Jain Zar: The Storm of Silence and Asurmen: Hand of Asuryan. He also wrote the Path of the Eldar and Legacy of Caliban trilogies, and two volumes in The Beast Arises series. For Warhammer, Gav has penned the End Times novel The Curse of Khaine, the Warhammer Chronicles omnibus The Sundering, and much more besides. In 2017, Gav won the David Gemmell Legend Award for his Age of Sigmar novel Warbeast. He lives and works in Nottingham.